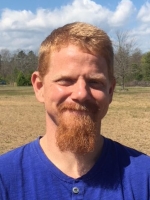 My name is Jeremy Patterson and I am an Elder here at Immerse Church.
I was born in Columbia, SC but moved to Georgia when I was still a small child. My parents moved us back to my mother's hometown of Batesburg-Leesville when I was a teenager and I graduated high school there.
Later I met my beautiful, amazing wife Eleslie, who is also from B-L, and we married in 2003.
We now have three lovely daughters: Kaya, Darby and Shiloh.
As I grew up I attended several different churches of different denominations. I was baptized at the age of 13, but without a full understanding of (or appreciation for) the Gospel of Christ. Soon after, I turned away from all I had been brought up to believe and pursued a life of sin in which I lived until shortly after the birth of my second child in 2007.
I was 27 years old when I placed my faith in the Lord Jesus, and God saved me by His grace. I have been seeking Him ever since, pursuing knowledge and holiness as He gives me grace.
I love to learn and to teach, and I have been blessed with the opportunity to do both here at Immerse. My family and I have also been blessed to be a part of a church body who seeks to love, encourage, teach and support us as God asks us to do for each other in His Holy Word. We have been here since 2014 and we could not ask for a more wonderful church family with whom to grow.
I am FAR from perfect (just ask my wife!), but I am sure that He who began a good work in me will bring it to completion at the Day of Jesus Christ. Hope to see you there!