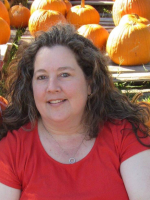 I was born in Henderson, NC but the majority of my life I have lived in South Carolina. I graduated from Brookland Cayce High School in Cayce, SC in 1987, and after that moved to Puerto Rico for 3 years. It was only after coming back to the States, a single mother with a young child, that I saw my life differently.
I worked in the Automotive and Banking industries for awhile. Along the way, I met my husband, Courtney, and we married in 1998. We have four amazing children, Kristina, Kristofer, Hunter and Faith. God blessed me by allowing me to eventually become a stay-at-home mom, which I have appreciated for the past 17 years.
I have always enjoyed working with numbers and helping others understand the accounting part of math, and my hobby is quilting (again lots of numbers). I like the aspect of taking those little pieces of material and stitching them together to form something beautiful. In the same way, God takes us and, piece-by-piece, stitches us together with love.
In my earlier years, I had been in and out of church all my life but never having the personal relationship with Christ that I have now. I met our lead pastor, Danny Kyzer, and his wife, Cindy, in 2002, and followed their journey as they left our home church at the time to start a new church, which eventually became Immerse Church. My husband and I have attended Immerse Church together since 2010. In stitching the "quilt" of my life together, God has even led me to use my talent with numbers to serve at Immerse Church as the Finance Director. Our family feels at home here at Immerse, and we are blessed to be part of welcoming others who are looking for a church home themselves.